デザインスクール公式イベント スプリングデザインスクール2014
International Symposium on Design Visions 2014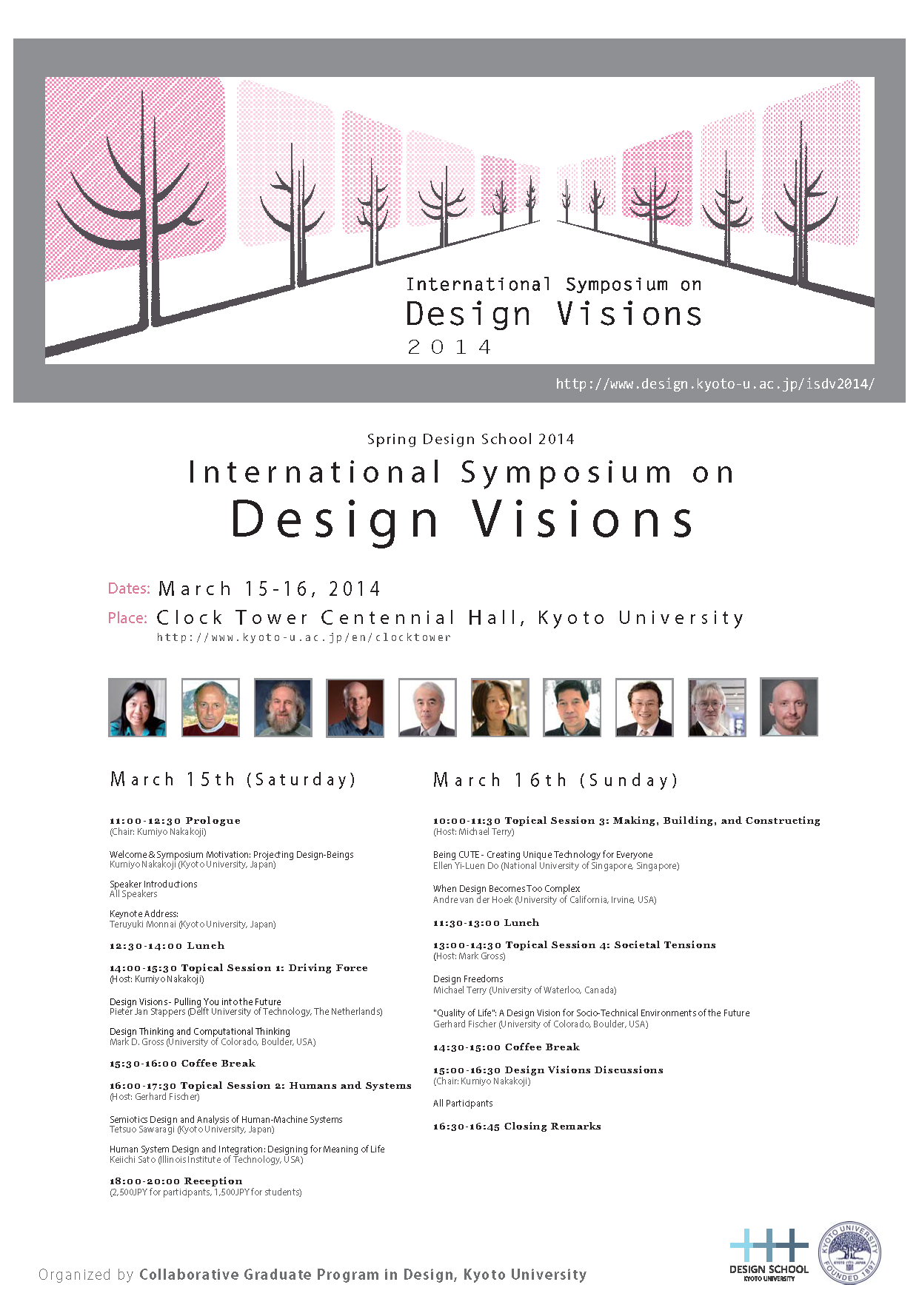 In association with Spring Design School 2014
Organized by: Collaborative Graduate Program in Design, Kyoto University
Date: March 15‒16, 2014 (Saturday and Sunday)
Place: International Conference Hall at Clock Tower Centennial Hall, Kyoto University
Symposium Organizer: Kumiyo Nakakoji (Kyoto University)
Admission: Free
Go to Symposium site
---
Program:
March 15th (Saturday)
11:00-12:30 Prologue
12:30-14:00 Lunch
14:00-15:30 Topical Session 1: Driving Force
15:30-16:00 Coffee Break
16:00-17:30 Topical Session 2: Humans and Systems
18:00-20:00 Reception (2,500JPY for participants, 1,500JPY for students)
March 16th (Sunday)
10:00-11:30 Topical Session 3: Making, Building, and Constructing
11:30-13:00 Lunch
13:00-14:30 Topical Session 4: Societal Tensions
14:30-15:00 Coffee Break
15:00-16:30 Design Visions Discussions
16:30-16:45 Closing Remarks
Speakers:
Teruyuki Monnai, Keynote Speaker (Kyoto University, Japan)
Ellen Yi-Luen Do (National University of Singapore, Singapore)
Gerhard Fischer (University of Colorado, Boulder, USA)
Mark D. Gross (University of Colorado, Boulder, USA)
Andre van der Hoek (University of California, Irvine, USA)
Kumiyo Nakakoji, Symposium Chair (Kyoto University, Japan)
Tetsuo Sawaragi (Kyoto University, Japan)
Keiichi Sato (Illinois Institute of Technology, USA)
Pieter Jan Stappers (Delft University of Technology, The Netherlands)
Michael Terry (University of Waterloo, Canada)
Theme:
Design has been viewed as the science of the artificial, investigating what things ought to be (H.A. Simon). As technologies become ubiquitous in terms of place, time, and context, a designed artifact (including physical, digital, and logical) inevitably affect how people live, learn, and work, as well as how they think, perceive, and feel. The designers of such an artifact must not only plan the artifact itself, but also envision and project how people would use, interact with, engage in, and live with the artifact in the future in a variety of time scales. Rather than the social impacts or implications of design, a primary part of the design should entail cognitive, organizational, and social envisionments.
This symposium addresses the view that design has to come to involve a future-oriented vision. Specifically, the focus of design should be on (1) framing a desirable yet ethically, cognitively, socially, environmentally, and technologically feasible future; and (2) depicting an artifact with a realization that would guide and induce people and society toward the future.
The name of this symposium has dual connotations. First and foremost, vision must be the first class object to be framed together with an artifact, and second, participants are encouraged to share visions of design research as future directions.
The symposium features speakers who are renowned experts on design theories, design support tools and environments, and design research education. Discussions focus on but are not limited to:
– vocabulary and diagrams to talk about design visions
– representations, media, and tools to coevolve visions and artifacts
– communicative environments to incrementally embrace, nurture, and share visions among present stakeholders and future stakeholders
– models and theories for design
– creativity, inspiration, imagination, and simulation
– time, change, and evolution in a wide variety of societal scales
– recontextualization of design rationale
---
Flyer Download