Design School Official Event
International Design Symposium in Kyoto 2015 (IDS Kyoto 2015)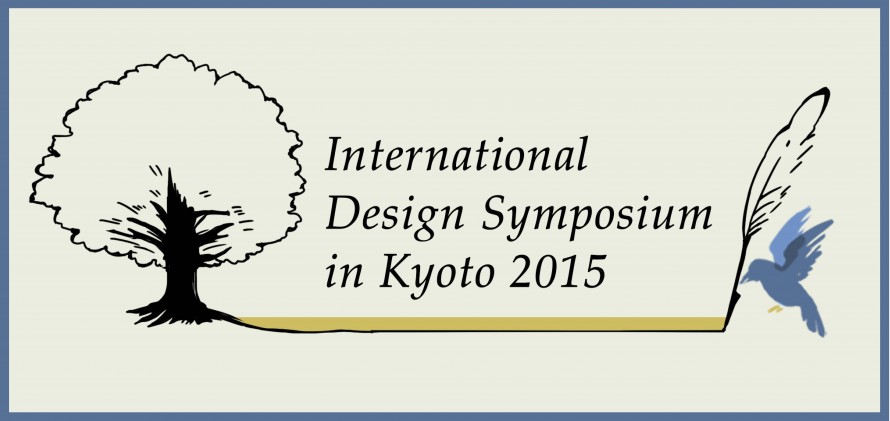 http://www.design.kyoto-u.ac.jp/idskyoto-2015/

実施報告書(PDF)

Dates : March 13-14, 2015 (Friday and Saturday)

Place: International Conference Hall at Clock Tower Centennial Hall,
   Yoshida Main Campus, Kyoto University
   (No.3 on the campus map)

In association with Spring Design School 2015
Organized by: Collaborative Graduate Program in Design, Kyoto University

Symposium Organizer: Tetsuo Sawaragi (Kyoto University)

Admission: Free

Program(tentative):



10:00-10:30 Opening Ceremony
10:30-12:30 Session 1 Design Education on Interdisciplinary Project Teams Linked with Society
14:00-16:00 Session 2 Design Research Spectrum from Transformational Fundamentals to
           Design Innovation
16:00-16:30 Coffee Break
16:30-17:30 Wrap-up Session for the 1st day and Photo Session
18:30-20:30 Banquet



10:00-12:00 Session 3 Outreach and Industrial Collaboration in Design
12:00-12:50 Wrap-up Session towards Systematization of Implementing Design Studies
12:50-13:00 Closing Session
14:00-15:30 International Advisory Board Meeting (closed)

Theme:
"Towards Systemization of Implementing Design Studies"

Two years has passed since the Kyoto University Design School started, and based upon our past accomplishments we are now stepping into a checking phase in implementing the PDCA cycle of the program towards completing the systemization of implementing design studies. In our program, we have advocated the three targets of our mission: education, research and social implementation of design studies. They are regarded as the simultaneously and conformably pursued targets with complete alignment. This is a tough task to accomplish these seemingly independent targets simultaneously and perfectly. In our program, these three pillars have been very carefully and effectively woven in the structure of the program.

IDS Kyoto 2015 features speakers who are from worldwide renowned institutions on design research education and are implementing their programs aiming at the similar targets to ours, in order to achieve a tangible outcome and to develop a sustainable network of design-related institutions all over the world. In addition to the speakers, International Advisory Board Members of the Kyoto University Design School also join and facilitate the discussions with the participants to collaboratively achieve the mission of the symposium of "Towards Systematization of Implementing Design Studies".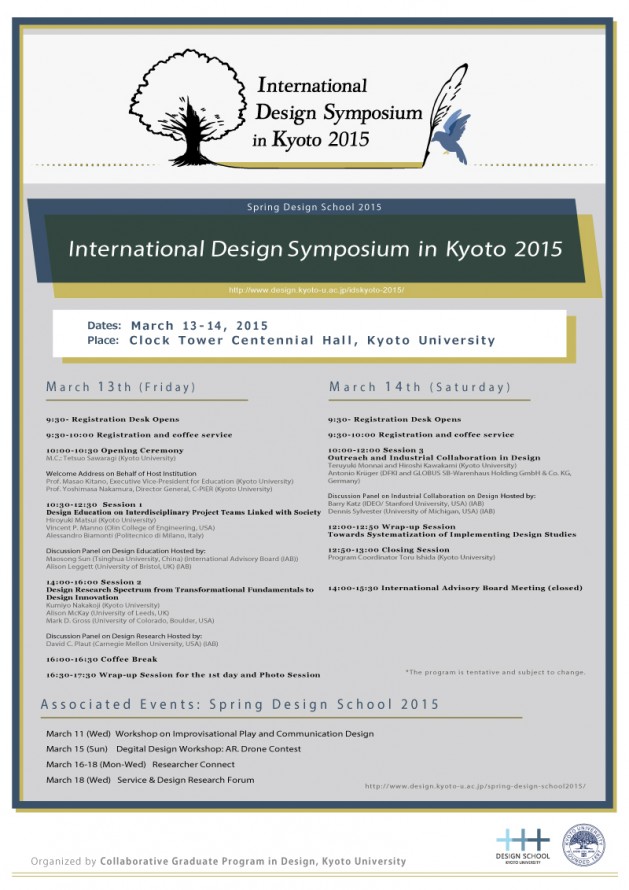 Flyer