京都大学デザインスクールでは、2つの活動拠点を設けています。
1つは、デザインイノベーション拠点。参画部局が吉田キャンパスと桂キャンパスに分かれているため、その中間にある京都リサーチパーク(KRP)内に設けています。京都リサーチパークは大小の企業や行政機関がオフィスを構えており、デザインイノベーション拠点はこの立地を活かし、産官学コラボレーションの中核としても位置づけています。
もう1つは、吉田キャンパス内のデザインファブリケーション拠点です。工学部の実験工場をリノベーションした大空間で、デジタルファブリケーション機器を含む製作環境や、ディスカッション、プレゼンテーションなどの場が設けられています。
両キャンパスとデザインイノベーション拠点は連絡バスで結ばれ、気軽に行き来することができます。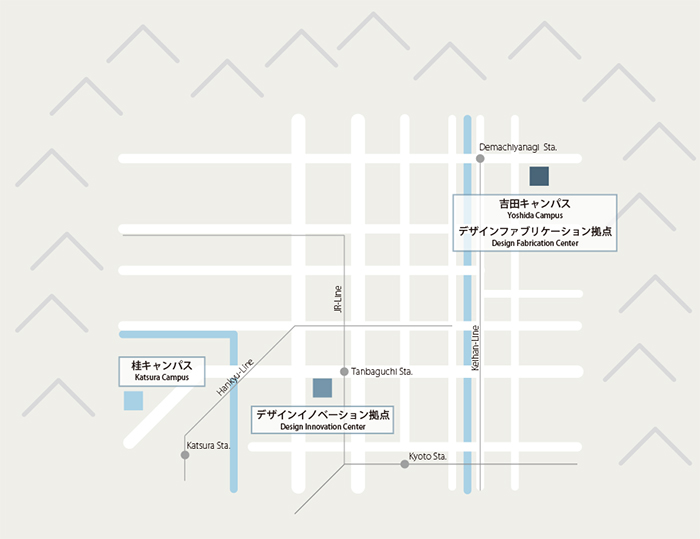 ・デザインイノベーション拠点(京都リサーチパーク:KRP)へのアクセス
・デザインファブリケーション拠点(吉田キャンパス)へのアクセス
 Kyoto University Design School has two bases for its activities: the Design Innovation Center and the Design Fabrication Center.
The Design Innovation Center is in the Kyoto Research Park (KRP), which is located midway between Yoshida Campus and Katsura Campus. Taking advantage of the fact that the KRP is a base for businesses and local government agencies, the Center serves as a hub of the program's industry-government-academia collaboration activities.
 The Design Fabrication Center in Yoshida Campus, built at the site of a former mechanical engineering research factory, has been refurbished with state-of-the-art digital fabrication technology that allows students and researchers from various fields to work collaboratively in actualizing ideas through prototypes, performances, discussions and presentations.
 Shuttle bus service is provided between the two campuses and the KRP for easy access.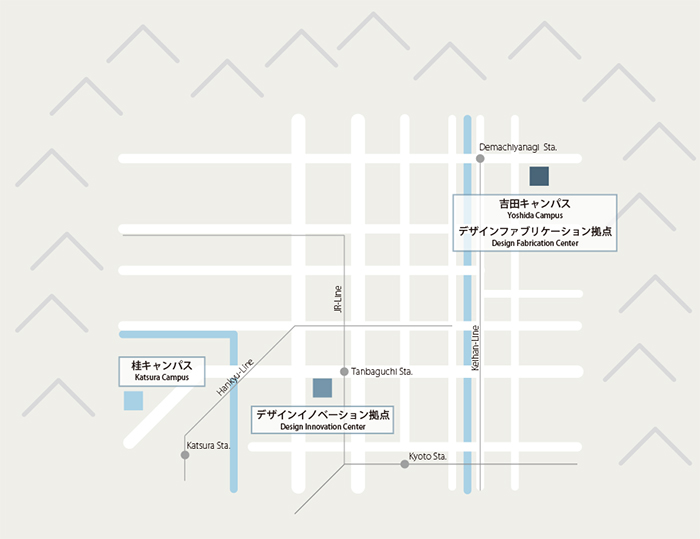 – Access to the Design Innovation Center
– Access to the Design Fabrication Center